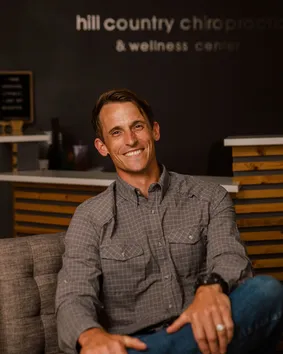 Dr.'s Zach and Corinne Sumrall are licensed Chiropractors and have been serving the Kerrville community since 2008. They are committed to promoting optimal health and well being of their patients.
Dr.'s Sumrall use a "whole person approach". This approach to wellness means looking for underlying causes of any disturbance or disruption (which may or may not be causing symptoms at the time) and make whatever interventions and lifestyle adjustments that would optimize the conditions for normal function. Using this unique approach, Dr.'s Sumrall are able to help you to accelerate and/or maintain your journey to good health.
Dr. Zach Sumrall is a native Texan who grew up in Willis, TX. After receiving his bachelors of science degree in Biomedical Science at Texas A&M University in College Station, Dr. Zach moved to Dallas to pursue his doctorate of chiropractic. Upon receiving his degree, Dr. Sumrall worked in Dallas as an associate doctor for two separate clinics. Approximately one year later Dr. Zach and his wife, Dr. Corinne, moved to Kerrville to pursue their own private practice, what is now Hill Country Chiropractic & Wellness Center. When not in the office, Dr. Zach enjoys spending time with his family, coaching our children's sports, hunting, fishing, exercising, digging for Indian artifacts and carpentry.

Memberships:
-Kerrville Bible Church since 2010
-Leadership Kerr County 2010 Class
---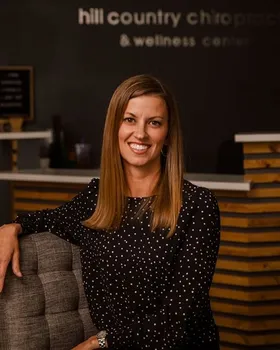 Dr. Cori Sumrall was born and raised in Eau Claire, WI. She graduated Cum Laude from the University of Wisconsin Eau Claire with a bachelors degree in Kinesiology with an emphasis in Exercise Science. She moved to Dallas to attend Parker College of Chiropractic and graduated Cum Laude with her doctorate in December 2006. During school she traveled to Cartagena Colombia, South America to treat the Olympic athletes of the Caribbean Games. She also received certification in Active Release Technique and is constantly attending numerous nutrition seminars to better serve patients whole body needs. She is an Applied Clinical Nutritionist and certified Weight Loss Coach. When not at the office, Dr. Cori enjoys spending time with her family and friends, living an active lifestyle by working out and competing in full and half marathons, traveling, dabbling in home design and chasing after three kids.
Memberships and Associations:
- Kerrville Bible Church since 2010
- Leadership Kerr County, Class of 2010
- Leadership KISD @022-2023
---
Dr. Chase Oliver is a proud Texan who grew up in Longview, TX. Dr. Oliver attended and graduated from Tarleton State University in Stephenville, TX receiving his degree in Biomedical Science. While attending school, Dr. Oliver met his now wife Amanda and he and his family moved to Marietta, GA where he furthered his education, earning his Doctor of Chiropractic from Life University. After graduating in 2018, Dr. Oliver moved back to Texas and began working in San Antonio where he remained for the next five years. He worked alongside some of the best chiropractors and was able to build relationships with a variety of medical professionals throughout San Antonio. In recent events, Dr. Oliver has made the transition to the heart of the hill country in order to allow him to spend more time with his family and enjoy what the hill country has to offer. Dr. Oliver and his wife Amanda have two beautiful children that keep them moving 100 mph with sports, school activities and their shared love for the outdoors. When not in the office, Dr. Oliver enjoys spending time with his family, cheering loudly at ballgames, hunting, fishing, carpentry work, fixing anything and cookouts with friends and family. Dr. Oliver's mission is to help bridge the gap in healthcare by educating his patients on proper ways to stay healthy. Dr. Oliver strives to correctly diagnose his patients, educate them on their condition, provide viable options for their specific condition and provide them a direction of healing even when chiropractic is not the best option.
---
Dr. Henry Hubble is a Texas born native who grew up and graduated from Medina, Texas High School being active in sports, FFA, and 4-Hand Rodeo. Two years later he graduated from Southwest Texas Junior College in 1969 and transferred to Sul Ross State University graduating with a BS dregree in 1973. That same year he married his wife of 50 years, Chula. They taught in a west Texas high school and coached various sports for three years where he was the team trainer and weight coach as well. Along the way three children were born to them and the next generation blessed them with six grandchildren. After three years of teaching and coaching they moved to Davenport, IA to pursue his dream of becoming a Doctor of Chiropractic. He graduated Cum Laude in 1979. While he attended chiropractic school he was the assistant instructor of chiropractic adjusting techniques and clinic student overseer for incoming interns. He worked with a chiropractic doctor in Oklahoma prior to coming to Kerrville in 1980 where he was in solo practice for 37 years. During those years various post-graduate courses where studied to keep up and improve the practice. He retired from full time in 2017 selling his records to Drs. Zach and Cori Sumrall who later invited him to work for them part time in their clinic. He has practiced here part time since, enjoying the clinic atmosphere and great attitude of the staff.
Memberships and Associations:
Medina Methodist Church
Past President of Kerrville Lions Club
Member Texas Chiropractic Association